What are we working on?
Week of 2. 11
Students are learning the art of VOCAL PRODUCTION (focusing on character voices).
AND they are writing, building and producing their own PUPPET SHOW in groups (ranging from 4-6 people)
They are learning not only how to focus on story telling through the voice but by proxy of producing a full show, they are getting their feet wet in scenic, costume and character design.
I encourage you to talk to your student about the VOICE: is tone important? How can the way we say things confuse or clarify?

Week of 2.4
Students are learning the art of improvisation!!
They have been graded on their participation. It is imperative that they participate so that they can learn how to utilize the "10 rules."
​I encourage you to ask them about the rules of improv and if any of them could apply to real life situations?

Week of 1.28
This week the students presented their MY Story/YOUR Story monologues.
They also began the journey that is IMPROVISATION. We are slowly (but surely) learning the art of improv through game play and scene games.
Lastly, they took their Theatre Fundamentals course pre-test so that we can find out how much they have learned at the end of the semester with their post test!
Students in Fundamentals have been working on two things through the weeks of 1.14 and 1.21:

MY Story/YOUR Story Monologue project - they all wrote down a personal true story about a moment that changed their life. They worked with Mrs. Day to edit and re-work it so that it was one minute-ish long and then they turned them in ANONYMOUSLY.
Mrs. Day passed them back out to the class so that the person that received will memorize it, and perform it for the class.

The other project they have been working on is their Pantomime group project. Mrs. Day put them in random groups of 6-7 and they were tasked to come up with a story and tell it using no words, props, set or costumes. They are allowed to use music and chairs for their performance but that is all.

Both of these things sound easy but are very hard and they have been working diligently during class time.
This THURSDAY (24th) they will present their PANTOMIME projects
This FRIDAY (25th) they will present the MY Story/YOUR Story Monologue

Additionally they all need to have/use an app called FLIPGRID for our weekly class journals and if this is not possible for your student accommodations will most certainly be made.

Mrs. Day will be posting the first FLIPGRID entry this week!



Powered by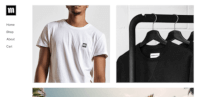 Create your own unique website with customizable templates.